Topics:
In this article, you will find out how to log in to your Soda PDF Account using a social media account (Facebook, Microsoft, and Google).
These are the subjects covered in this article:
Add Third-Party Connection
You can always review a list of any third-party connections linked to your account. From here you can easily add any others.
Go to our Account Portal.

Sign in to your Soda PDF account.

Click on your name.

Choose My Account.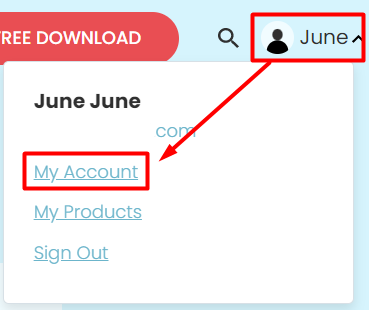 Go to Connected Accounts.

Click the account you want to add.
Here you will have a choice to connect with Facebook, Google, or Microsoft.

Refresh the page. The account will appear in the Connected Accounts section.
Remove a Third-Party Account
You can remove a third-party connection at any time.
Click Remove next to any account.


If you create an account with a third-party connection, the main email address behind it will be left on your Soda PDF account. You will need to use this email address to log in moving forward.

When you disconnect the account used to create your Soda PDF account you'll be prompted to create a new password.
Enter your password.

Choose Save Changes.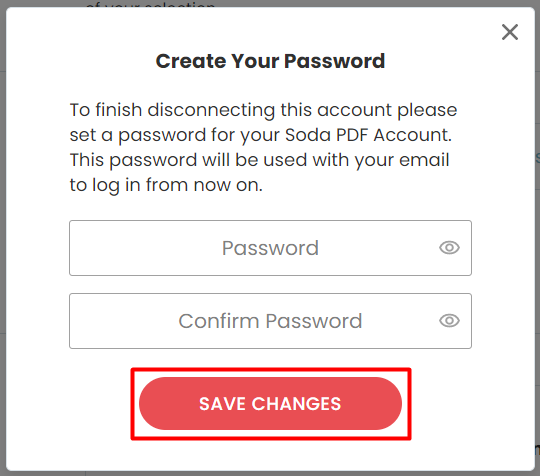 Troubleshooting tips
If you could not sign in to the Soda PDF account with a Third-Party Account Connection, the reason for that is that the email address for the social account is being used already. You will encounter the error of needing to merge accounts. You can use the instructions below to resolve this issue.
The thing that's exclusive to FB is verifying the email address.
Step 1 - Verify the purchase email

and social login email
You need to verify it to understand what's going on with your account.
This only applies to FB users and everyone else can skip this part (since it's obvious with Google and Microsoft which email is used).
Go to https://sodapdfs.com/ website so you could look up your purchase and confirm that email.
If you already know the email address with your FB account, skip to the next step, otherwise, you need to make sure which email it's using:
Click your account icon in the top right corner.
Choose Settings & privacy -> Settings.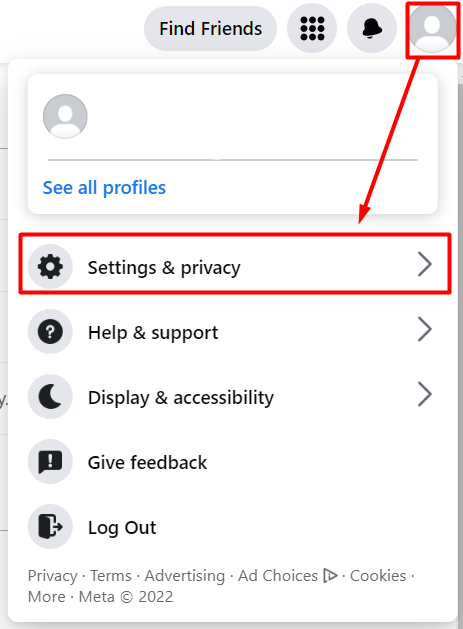 The

email

next to Contact is the

email associated with your FB account

.

Step 2 - Add T

hird-Party

account
Click here to open the instructions for adding a third-party account.
If there still will be an error message when trying to connect to a social media account, click here to find the solution.
If you will see the message below, click here.

Step 3 - Merge Soda PDF accounts
Every third-party connection has an email address behind it. When you try and connect an account with an email address already attached to a Soda PDF account, you will see the window below:
Merge your third-party account email with your Soda account email in order to be able to sign in with your Soda PDF account and social media account.
To merge the accounts please contact our customer support.
Once the accounts are merged, you will be able to connect.
You can contact us by clicking on Contact us on our main support page.
*You will need to enter your email address. A security code will be sent to you. Enter the code and click on Validate. You will then be able to open a request.
Step 4 - Remove Soda App from FB Settings
Select Apps and Websites in the Facebook Settings.
Click on Remove next to Soda PDF.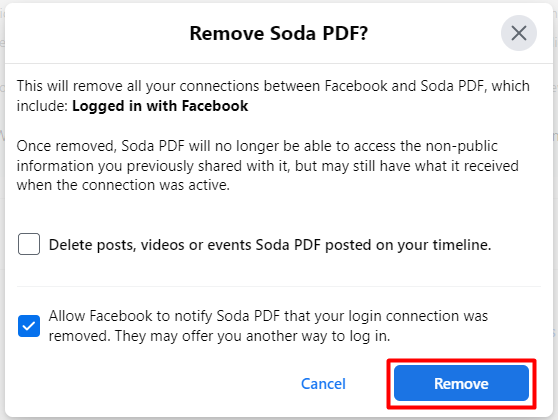 When you try to connect your Facebook account again, it should now work.
In another case, contact our customer support.
We have two additional modules. The OCR module allows you to recognize and edit text within any scanned document or image. We also have the E-Sign module that allows you to electronically sign PDFs and track and manage e-signatures in real-time. If those modules are not available for you, you can purchase them here.