Search Document
The quick search option is located in the top right corner of the application. Simply type your keyword into the field, then click on the magnifying glass or hit the Enter key.

You will be brought to the word and the word will appear highlighted on your screen. You can use the up and down arrows to navigate between the appearances of the keyword.


You can perform a more thorough search by clicking on the Magnifying Glass icon in the auxiliary panel on the right-hand side. Type in your keyword into the field and press Enter. Select your keyword from the list to be directed toward it.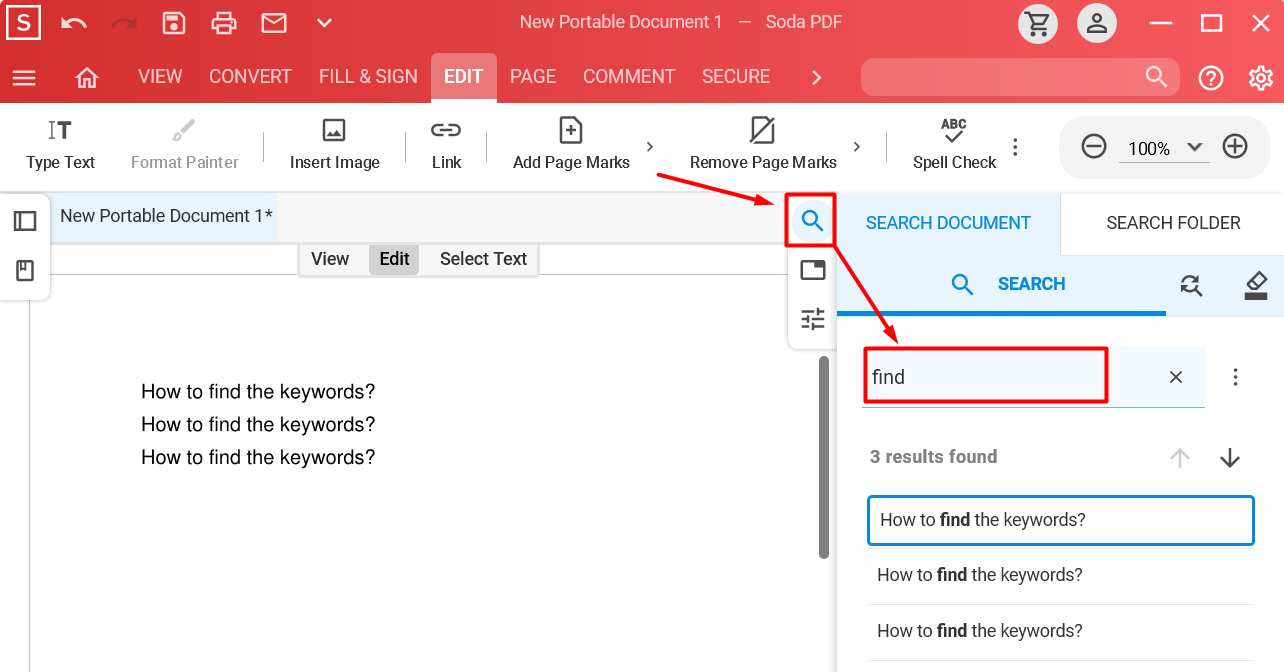 To specify your search, click the three dots icon and select the Case-sensitive check box. To search for the whole word, select the Whole words only check box.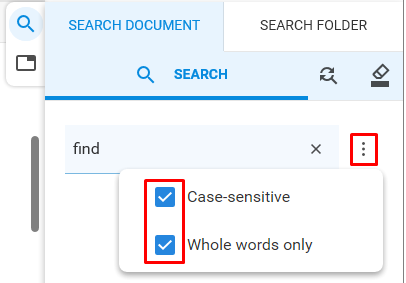 If you modify the document in any way, you will need to search again.
Search Folder
This option will let you apply the standard search experience to multiple documents at the same time.
Click on the Search folder option to open the multiple document search.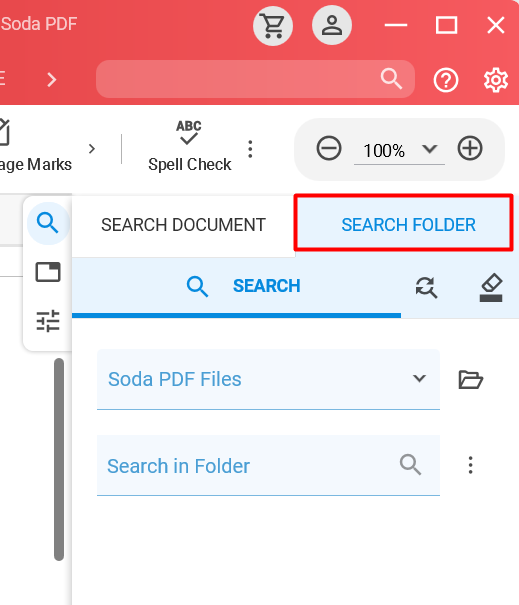 In the first dropdown, choose the folder on your computer you want to search.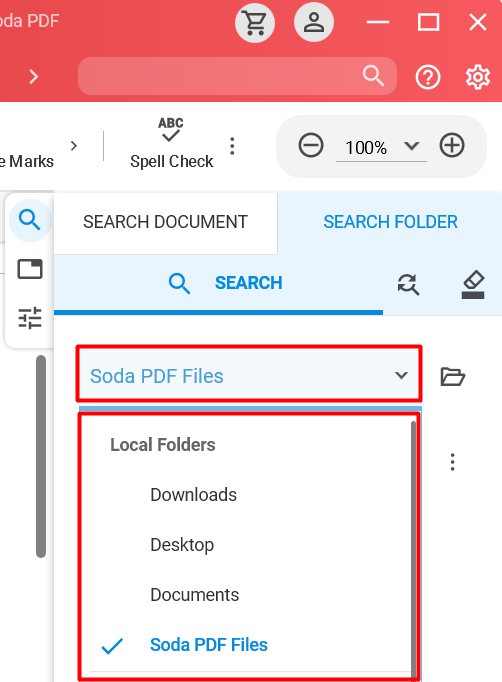 Enter your search term and click the magnifying glass to search.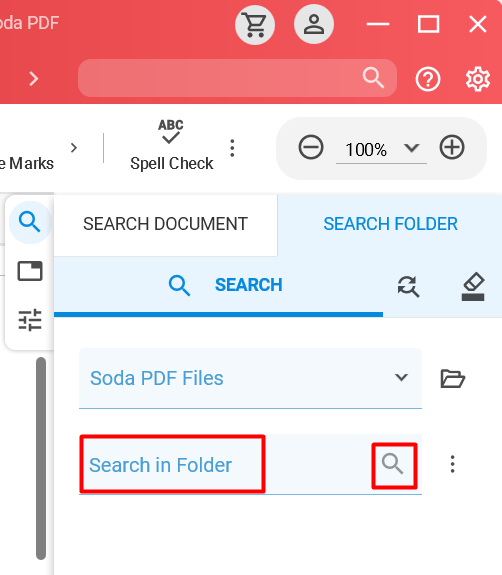 Each file that has that search term will appear below. Click on one to see a list of each instance of that term.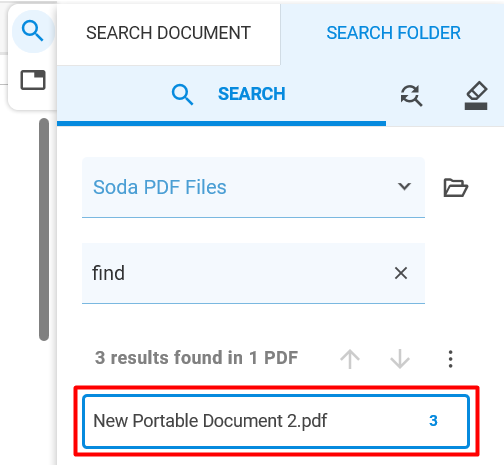 Click on any one of the entries to get to that keyword. If the file is not yet open, it will open to the page with that search term.
You can switch between documents by using the Previous and Next arrows.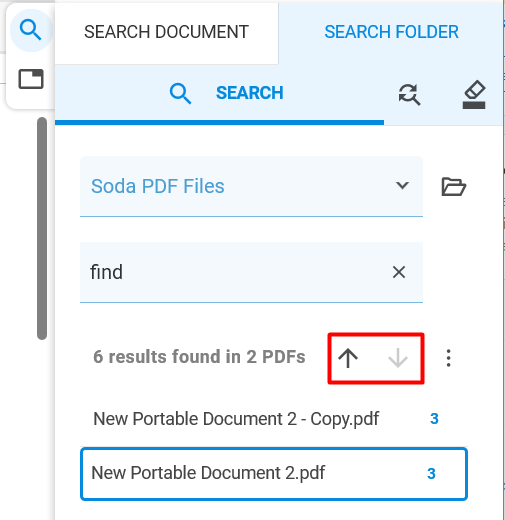 To order the search results by the File Name, Date, or Location, click the three dots icon and select a proper option from the drop-down menu. Select the Show file path option to view the file location in the search results tab.
Search and Replace
The Search and Replace tool gives you the ability to replace a word or sentence with a new one.
Open the Search panel on the right side of the Soda PDF application.
Choose Search Document or Search Folder and switch to the Search and Replace panel.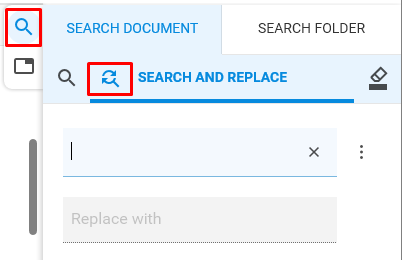 Type the necessary word into the upper Search field.
Hit the ENTER key and the search results will appear in the Result box.
All results are selected by default. Mark the check boxes you want to replace with a new text.
Enter the new text or word into the bottom Replace field.
Click the REPLACE button.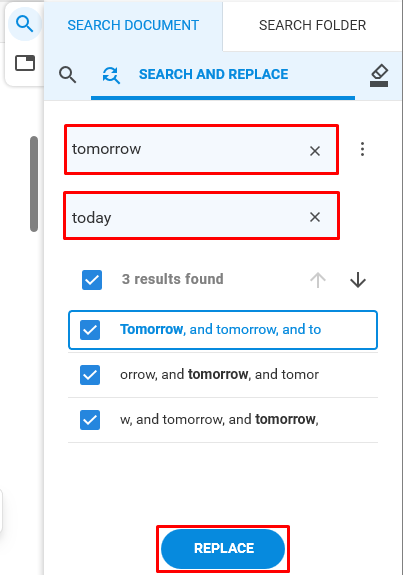 We have two additional modules. The OCR module allows you to recognize and edit text within any scanned document or image. We also have the E-Sign module that allows you to electronically sign PDFs and track and manage e-signatures in real-time. If those modules are not available for you, you can purchase them here.