The Program Overview section will help you orient yourself within the Soda PDF interface. If you follow all the guidelines within this section, you will be well on your way to using the program correctly.
Topics:
Main Menu
To access a set of commands which can be applied to your document, click the Main Menu button in the top left corner.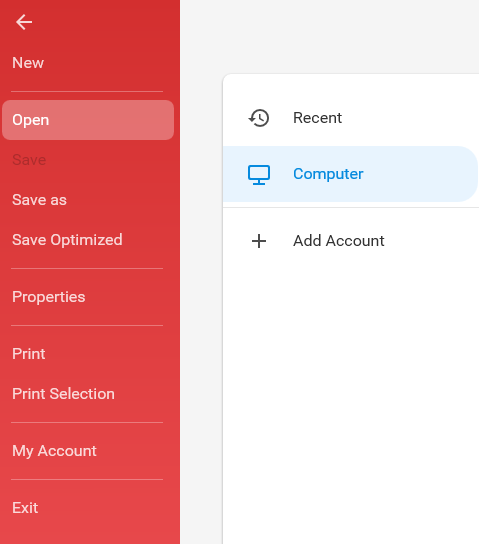 Caption Buttons
Caption buttons can be found in the top right corner.
Click this button to minimize the main window to the Taskbar.
Click this button to maximize the main window to the full-screen size.
Click this button to close the application.
Quick Access Toolbar
The Quick Access Toolbar gets you fast and easy access to the tools you use the most: E-Sign, Undo, Redo, Open PDF, Save, Print, Print Selection, and Send by email.
Click the arrow in the top panel to configure the Quick Access Toolbar to your preference.
To add or remove the tools from the toolbar, simply select the appropriate check box from the list.


Ribbon Bar
The Ribbon Bar contains the following tabs: View, Create & Convert, Fill & Sign, Edit, Page, Comment, Secure, Forms, E-Sign, and OCR.
There are essential options on the right side of the Ribbon Bar: Search, Help, Options, and the Zoom Bar.
Home Page
The Home Page is the page that appears when you open the Soda PDF application. You can access the Home Page anytime by clicking the Home Page icon.

The Home Page includes the most commonly used functions on the left-side panel such as Open PDF, Convert to PDF, Merge files to PDF, Clipboard to PDF, PDF to Word, PDF to Excel, Add Comment, and Protect your PDF.
You can customize the Home Page, edit the list of the most frequently used tools, and have quick access to them.
To use this tool, click the Customize button.
You can drag already available or new tools from the list and drop them in the desired place.
Click the Apply button to apply your changes.
Click the cross icon to clear any slot.

If you need expert advice on any issue, you can click the Chat icon on the Home Page and get in touch with a helpful Soda PDF support agent.
We have two additional modules. The OCR module allows you to recognize and edit text within any scanned document or image. We also have the E-Sign module that allows you to electronically sign PDFs and track and manage e-signatures in real-time. If those modules are not available for you, you can purchase them here.