There are a few ways you can go about creating PDFs. This article will cover each method. You can create PDFs from other file types along with new blank documents.

When you install Soda PDF, it comes with a virtual printer. Instead of printing a file to paper, the Soda PDF printer creates PDFs out of other file types. A good rule of thumb is that if a file can be printed, it can be converted to PDF.

Method 1 – The Drag and Drop
The quickest way to create a PDF from another file type is to drag and drop the file onto Soda PDF.
Go through your computer to your file.

Hold down the left mouse button over the file and drag the cursor over to Soda PDF (the application or the desktop icon).

When you release the mouse button Soda PDF will open and your file will become a PDF.

Method 2 – The Right-Click
If you have many windows open and are browsing through your computer, it may not be convenient to use the first method. Instead, you can get your file to become a PDF with a few clicks.
Right-click on your file.

Expand the Soda PDF Desktop option.
Choose Convert to PDF.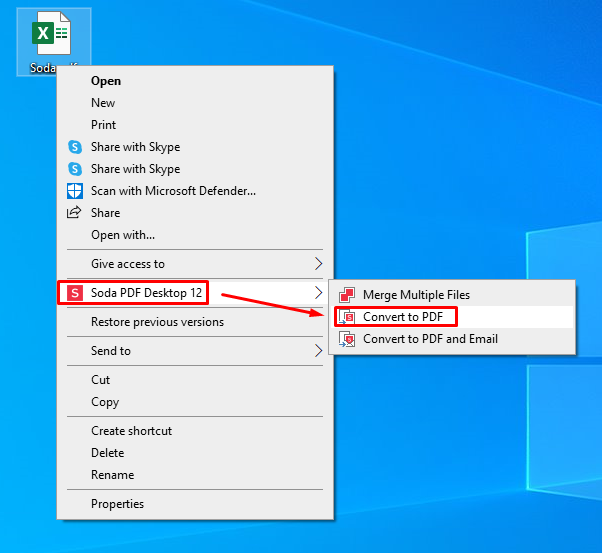 Your file will now open as a PDF document in Soda PDF.

Method 3 – The In-App Experience
If you want to create a new PDF from another file while you are using Soda PDF, it can be done completely inside the application.
Click on the Create & Convert Tab.
Click on File to PDF.

Go through your computer and choose your file.

Choose Open.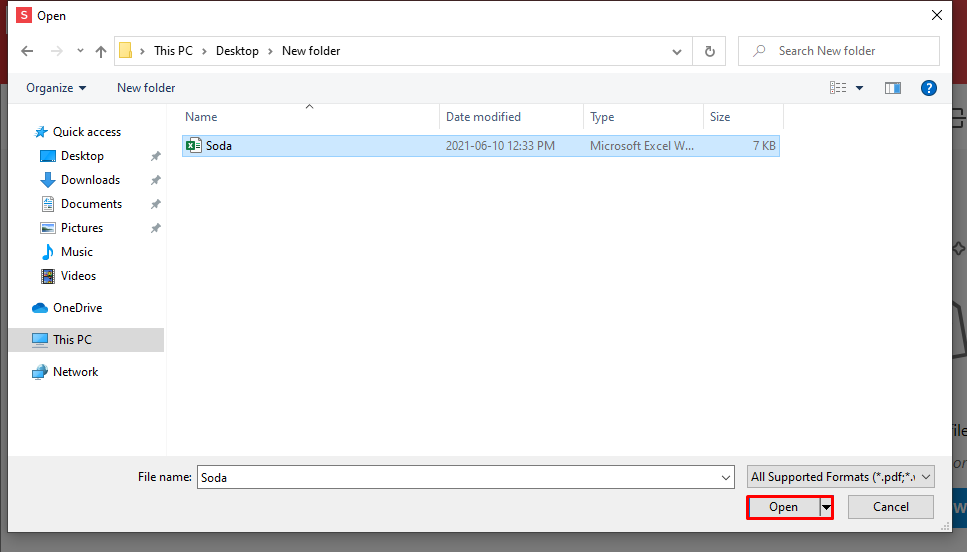 Your file will open in Soda PDF and you can start working with it.

You can create PDFs from many files at once. Click here to learn more about batch-creating PDFs.

Method 4 – The Blank Slate
You can also create a new, empty PDF from scratch.
Click on the Create & Convert Tab.
Click on New.

Click the three dots to see the additional settings and customize your new PDF document before its creation.
Click Create New button when you configured the settings.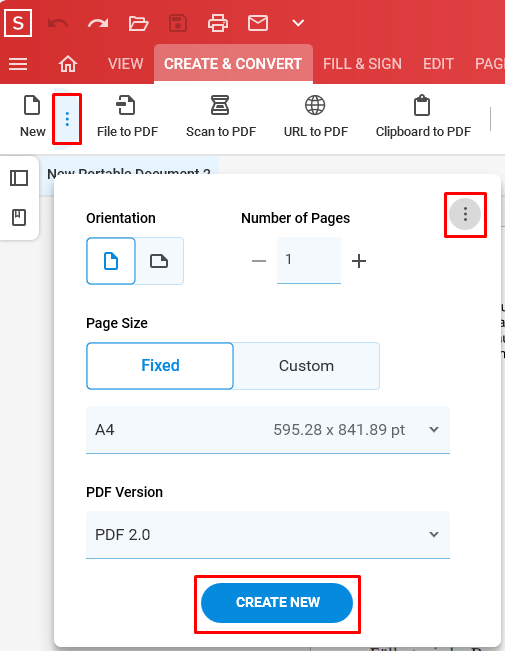 Click the Make Default option to save the selected settings moving forward.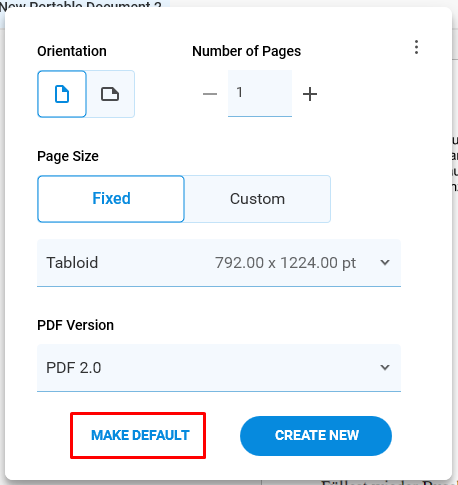 Method 5 - The Virtual Printer
In nearly every program that allows you to print you can create a PDF from the file, you have opened.
Go to the print setup window.
Choose the Soda PDF printer.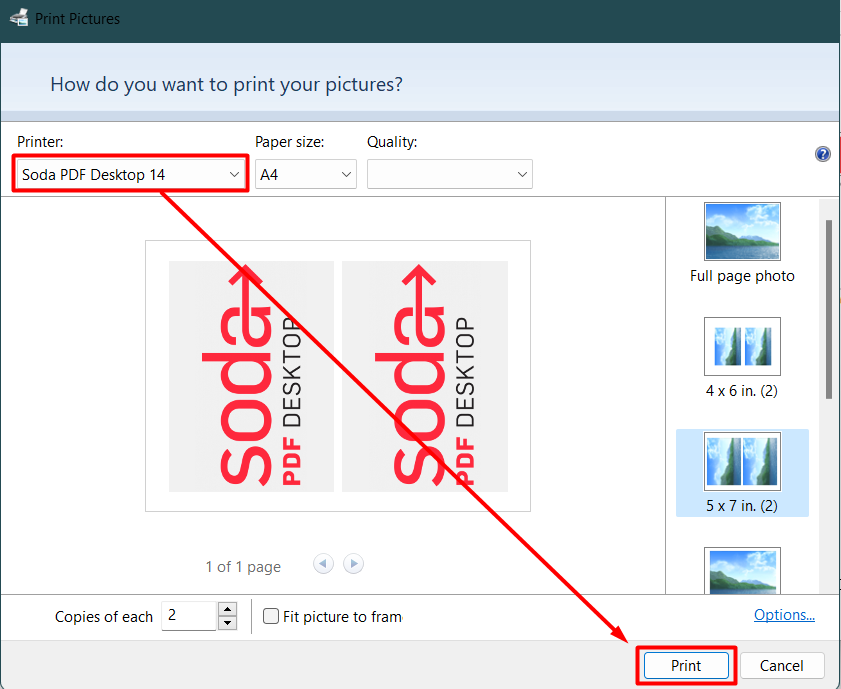 When you print the file you'll be prompted to save it and give it a name. The file will then open in Soda PDF, as a newly created PDF document.
If you do not want Soda PDF to open after creating the PDF, you can disable that feature.
Open the Options Menu.
Click on General.
Toggle the switch next to Open Files Upon Creation.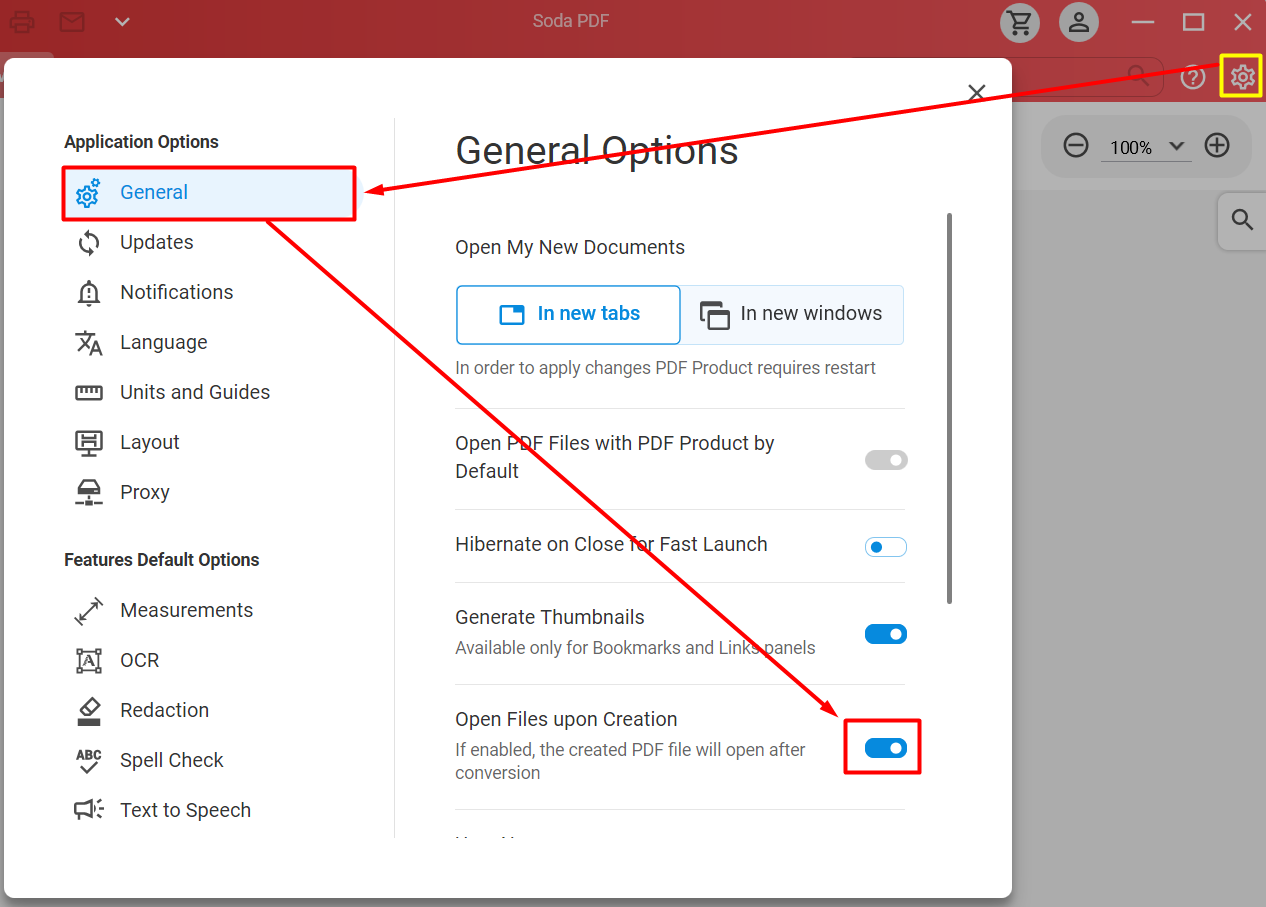 We have two additional modules. The OCR module allows you to recognize and edit text within any scanned document or image. We also have the E-Sign module that allows you to electronically sign PDFs and track and manage e-signatures in real-time. If those modules are not available for you, you can purchase them here.