For most new users, you can activate Soda PDF quickly by logging into your Soda PDF account.
However, you may have been provided with a license key, depending on where and when you bought Soda PDF.
So we'll cover instructions for both activation flows.
If you are looking to transfer your license key to a new computer, click here.
Account-Based Activation (Soda PDF Desktop + Online)
Your product will be attached to your Soda PDF account. An account is created upon purchase and linked to the email address you used during checkout.
You should have received an email to create a password post-purchase.
If you need to change your account password click here for more instructions. If you want to change the email address for your account, click here.
Logging Into Your Account:
Click on the Login logo in the top right corner.
Choose Sign In.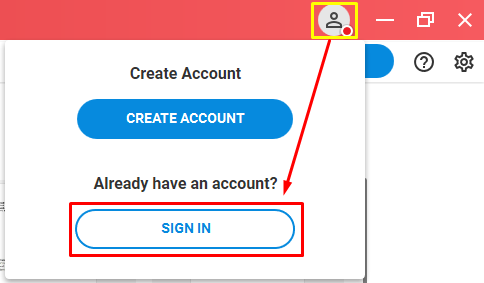 The activation window will open in your internet browser.
Enter your email address and password then click SIGN IN.

Click Proceed to Soda PDF button to open the software window.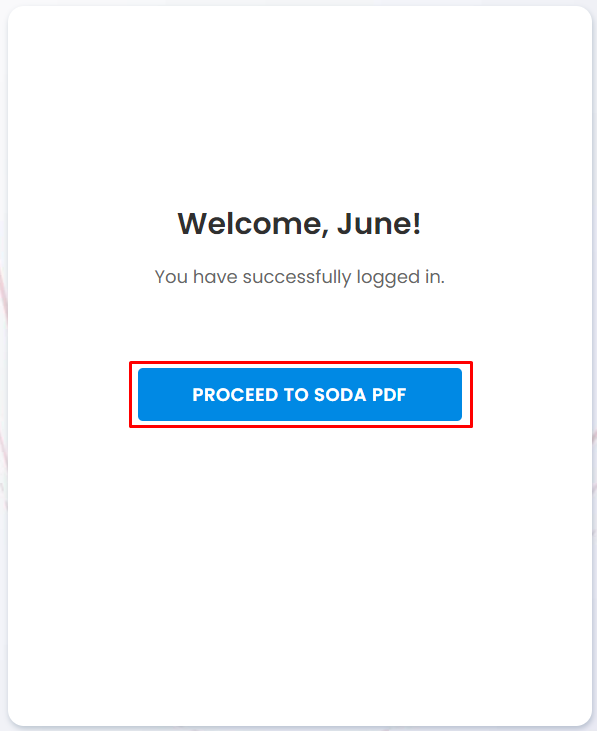 Soda PDF is now activated. You'll see this confirmation at the bottom of your Soda PDF window.

**Pro Tip – If you upgrade your product you'll automatically activate it when you log in to your Soda Account.
This section is for users who were provided a license key to activate Soda PDF.
Entering Your Key:
Once you pop the license key into the app, Soda PDF is activated.
Open the Activate Tab.
Choose Enter License Key.
Enter your license key into the popup that appears.
** Pro Tip: Be sure to copy and paste your key to avoid any errors.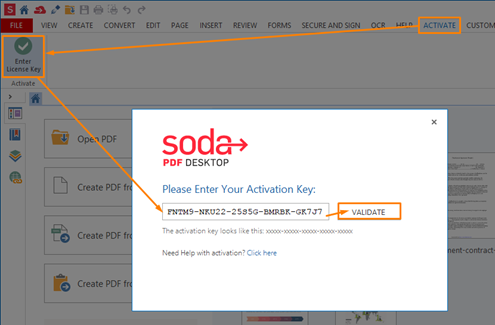 Soda PDF will be activated and ready for use. You will see this popup appear confirming the activation was successful.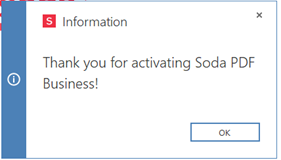 License keys can be used only once.
If you need to transfer your license (activate) to a new computer, click here to contact support.
If you do not see the Activate Tab you may not have the right version of Soda PDF installed. Uninstall Soda PDF and then click here to download and install the license key version for Soda PDF 11. For the license key version of Soda PDF Desktop 9 & 10, please contact support.
Older Versions of Soda PDF (Product Doesn't Appear In Account)
If you have a perpetual product it will be linked to a specific version of Soda PDF. A perpetual license means you paid one time and have access to that version of Soda PDF forever.
If you are not seeing your product inside Soda PDF Desktop, but you do see it in your account on the website, it is likely your products are assigned to an account with a different email address or if the version you have installed does not match your product.
How to get the correct version of Soda PDF:
1- Confirm your version of Soda PDF
You can confirm the version you have installed. The number before the first period is the numbered version of Soda PDF you have installed. As an example, if the number is 9.1.23.9987 then you have Soda PDF 9 installed.
Open the Help Tab.
Click About.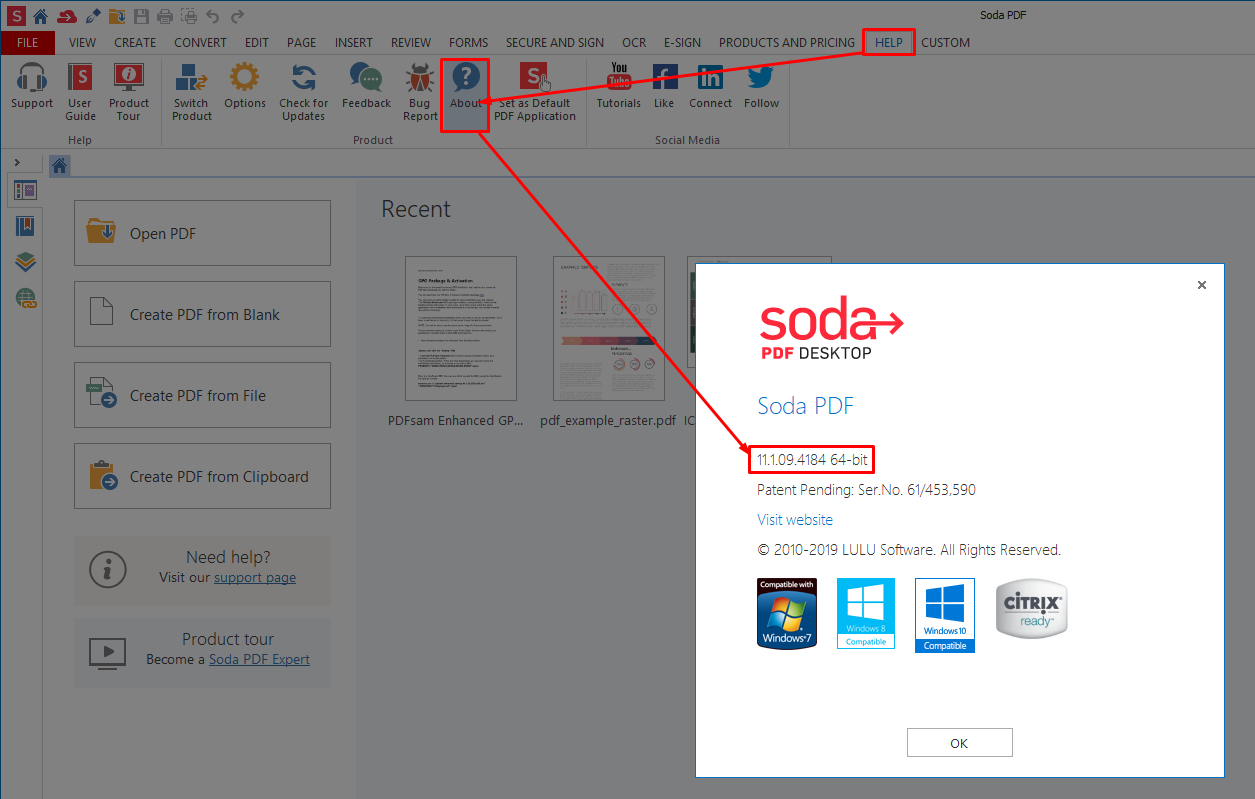 ** If you need to change the version of Soda PDF you should uninstall your current Soda PDF and install the version for your license.
2 - Confirm which Soda PDF License you have
You can verify your version of Soda PDF in the account area on our website.
If you have a license key, you can confirm the version by checking your purchase invoice here.
3 - Download Your Version of Soda PDF
The current version you'll find on our website is Soda PDF 14. Click here to download the latest version of Soda PDF.
4 - Activate Soda PDF
Now you can head back to the beginning of this article and follow the steps for either account or license key activation.
Trial Expired Message
If you've purchased Soda PDF and you are seeing a Trial Expired message then this section help you get Soda PDF activated.
1 - Make sure you are logged in
To access your product, you will need to be logged in. You are logged in when you see a green dot on the Login logo in the top-right corner.

If you are not logged in, click here to jump to the section about logging into your account to activate Soda PDF.
2 - Switch Your Product
If you are logged in with your Soda PDF account, all you need to do is switch your product.
Click on the Login logo in the top-right corner.
Choose Manage Products.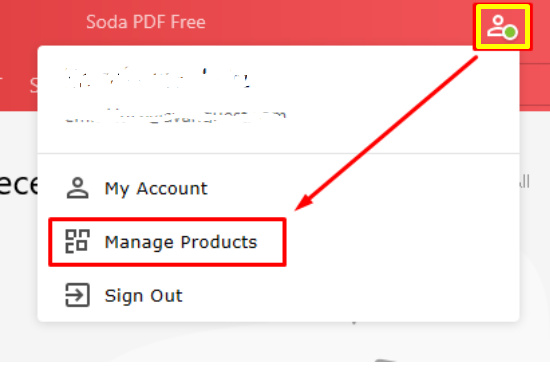 A window will open with all the products on your account.

Choose your product and click on it.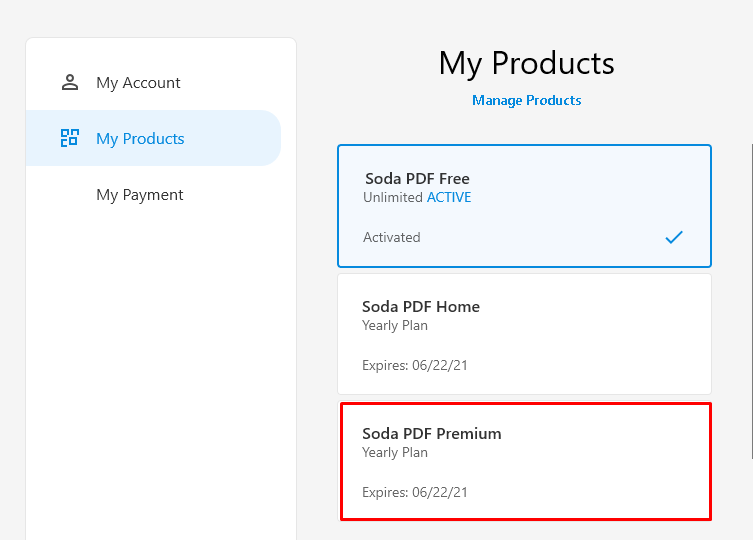 A popup will appear confirming the product you are now using.

** Pro Tip: Add-On items like E-Sign and OCR are always activated regardless of the product you switch to.
A firewall is Blocking Activation
If your firewall (or other) is blocking the activation of Soda PDF, you'll need to create an exception.
DNS Name: oauth.sodapdf.com
IP: 174.142.220.165
Allow this IP to pass through Port 80 and Port 443 and you will be able to activate the application.
GPO/Citrix/Server Activation
This Soda PDF guide explains deployment with GPO.
Soda PDF is also available for Citrix and server environments. We recommend reaching out to the support team to make sure you get the right build.
Video Instructions: