Below you'll find a list of topics covered in this article:
Account Based Activation (Soda PDF Desktop + Online)
License Key Activation
How Activation Works
Soda PDF Accounts
How to Switch Products
Firewall is Blocking Activation
GPO/Citrix/Server Activation
Video Instructions
Account Based Activation (Soda PDF Desktop + Online)
All you need to do is login to your account inside Soda PDF.
1 – Click Create Account / Sign In in the top right corner.
2 – Choose Sign In.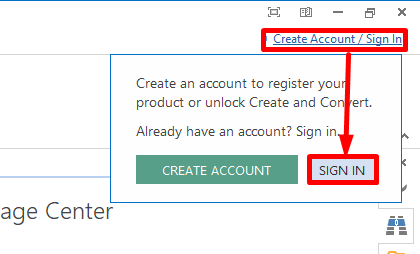 3 – Click the account button under With a Connected Account or enter your email address and password under With your Soda Account (then click SiGN IN).
4 - (Optional) If you have multiple products you'll be asked to choose one.
5 - Soda PDF is now activated. You'll see this confirmation at the bottom of your Soda PDF window.

**Pro Tip – If you upgrade your product you'll automatically activate it when you login to your Soda Account.
License Key Activation

Certain promotional offers may provide you with a license key for a Soda PDF product. Once you pop the license key into the app, the servers will validate everything is good and Soda PDF is activated.
1 – Open the Activate Tab.
2 – Choose Enter License Key.
3 – Enter your license key into the popup that appears.
** Pro Tip: Be sure to copy and paste your key to avoid any errors.
4 – Click Validate.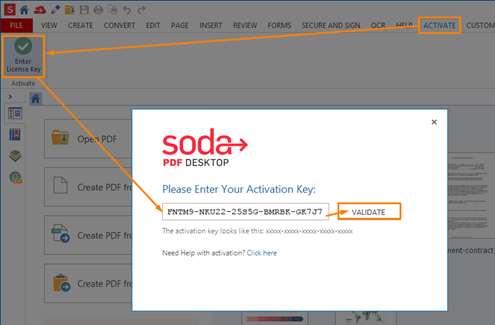 5 – Soda PDF will be activated and ready for use. You'll see this popup appear confirming you're good to go.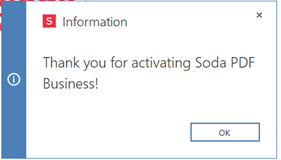 Troubleshooting Tips:
1 - License keys can be used only once. If you need to transfer your license to a new computer, click here to contact support. A benefit of account-based activation is that you can transfer your license without talking to us.
2 - If you do not see the Activate Tab you may not have the right version of Soda PDF installed. Uninstall Soda PDF and then click here to download and install the license key version.
How Activation Works
Activation is the process of validating your product. Whether you are using the Soda PDF trial or you've recently made a purchase, when you activate Soda PDF you'll get access to all your features.
For most users, activation is as simple as logging in with your Soda Account. The app will check everything on the backend, and you'll be good to go.
 **Pro Tip: If you see a message saying your trial has expired, double check to make sure you are logged into Soda PDF.
If you have a license key instead of an account, you can jump ahead to that section for help getting Soda PDF activated.
Soda Accounts
Your Soda PDF products are linked to your account. When you make a purchase, your products are added to an account with the email address you used.
**Pro Tip: If you used a third-party like Facebook to create your Soda Account, make sure to use the primary email address of the third-party account when making a purchase.
If you don't already have an account, it will be created once the purchase is complete. You'll receive an email asking you to make a password.
Once you have your account credentials ready, it's time to activate Soda PDF.
**Pro Tip: If you have already have a Soda Account and would prefer to use that one, you can merge the two accounts, click here to learn how.
When you purchase multiple products at once, they will all be added to the account linked to the purchase email. This will be the primary account that manages the products. Only the primary account can manage the account status of each product.

You can assign each license to a any email address. They will receive an email asking them to create a password. They can then login with their credentials and start using Soda PDF. 
You can assign a license in the My Products section of your account.
Click the arrow next to Unassigned Licenses under a product.
Choose Assign.
Enter the email address.
Click the green Assign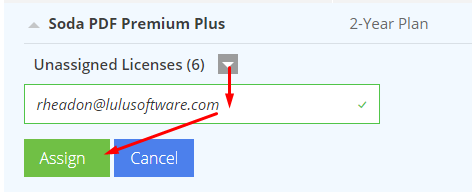 ** Pro Tip: You can batch assign licenses to users, click here to learn more.
How to Switch Products
When you have multiple products you can easily switch between those products from inside the app.
1 – Click on your name in the top-right corner.
2 – Choose Switch Products.
3 - A window will open with all the products on your account. Pick one of them.
4 – Choose Switch.
** Pro Tip: Add-On items like E-Sign and OCR are always activated regardless of the product you switch to.
Firewall is Blocking Activation
If your firewall (or other) is blocking the activation of Soda PDF, you'll need to create an exception.
The IP for the Soda PDF activation server is 64.15.159.202 (or activate.lulusoft.com)
Allow this IP to pass through Port 80 and Port 443 and you will be able to activate the application.
GPO/Citrix/Server Activation
This Soda PDF guide explains deployment with GPO.
Soda PDF is also available for Citrix and server environments. We recommend reaching out to the support team to make sure you get the right build.
Video Instructions: