Topics
You can create a brand new PDF form in Soda PDF. You'll start by building out your template using the various tools in Soda PDF.
Once your text and images are in place, you'll add custom form fields to your document. This article will remain fairly top-level and link to additional resources when appropriate.
You'll learn:
If you don't have Soda PDF yet, you can purchase it here.

How to create a basic form skeleton
Your form skeleton is everything in your PDF that is not a form field. In most cases this will be text and images.
Text boxes will always have blue outlines. Images will always have red outlines.
Step 1 - Add text to your PDF
Your text fields will represent the questions and relevant explanations that make up your form. For a full breakdown of our text tool, click here.
You'll first add text boxes to your PDF. You can type into these text boxes as though you were using Microsoft Word.
Switch into Edit Mode.
Double-click anywhere in your document.
Start typing.
Step 2 - Line up your text
You can resize or move your text boxes around your document. The grid tool will help you keep your text aligned.
Keep your eye out for green lines as you drag your text boxes around your document.
Release your mouse button when you see a green line and the text box will snap into place.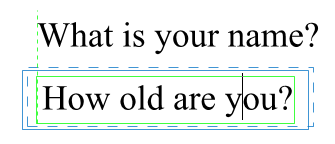 Step 3 - Add any images (Optional)
You can add any images using Soda PDF.
In the Edit module choose Insert Image.
Browse your computer for your image.
You can then move the image around or resize it as needed.
Step 4 - Add more pages (Optional)
Sometimes you can fit everything into a single page. Most of our forms take a few pages.
There is no limit to the number of pages you can add.
Click the Page Tab.
Choose Insert.
Choose the type of pages to insert and configure additional options.
Your new pages will appear in your document. Keep adding content to your pages until you are ready to add form fields.
Here are some helpful links to related topics not covered in this article:
How to add form fields
This article will cover the basics of adding form fields. Because each form field type behaves differently, we have an article for each explaining in detail how to configure that field type.
In Soda PDF you can add the following form field types. Click on the link for each field type for more details:
Text Field - This lets you set up fields where users can answer questions or provide information via text.
Radio Buttons / Check Boxes - These fields are used for multiple-choice questions. A Radio Button is for questions with only one possible answer. A Check Box should be used if there are one or more possible answers.
Combo Box / Dropdown Menu - If you want to add a dropdown menu to your form, use the combo box feature.
List Box - This field is similar in function to a dropdown menu, only you see the list within a box.
Push Button - This is a programmable button that lets you add basic JavaScript commands like the option to quickly print the form.
We'll move on to how you can add form fields.
Step 1 - Choose your field type
Open the Forms Tab.
Choose one of the available Form Field options.
Step 2 - Place your field
Left-click anywhere on your document to place the field.


You can drag your cursor to resize the field.
To duplicate a form, click the Duplicate button.
You can define the position of the duplicated form and the distance between forms by clicking the Show more button.
Step 3 - Configure your field
You can finish setting up your form field in the Properties tab.
Click on your form field while in Edit Mode.
Choose the Properties icon.
We created this article to cover all the form field properties.
Once you have placed all your form fields, you are ready to test it out!
How to test out your form
When you flip into View Mode you will be in PDF Reader mode. This means Soda PDF will treat your PDF the same way as the person receiving your form.
Switch into View Mode.
Fill out your form field.